From our founding days to the present, we have been upholding our mission for more than a century. The Wah Yan story is one of adaptation and growth. Wah Yan College was founded on 16th December 1919 by Mr. Tsui Yan Sau, Peter. There were four students on the first day of school. It was not long before we became the first Grant-In-Aid school founded and managed by a Chinese in 1922. Our extraordinary performance in the early days drew the attention of the Jesuits, who agreed to take over in 1932. The two Wah Yans have served as the Jesuits' foothold in Hong Kong ever since.
Our commitment to education has never been deterred by any adversity, not even by the Japanese occupation, during which we continued teaching under unfavourable circumstances. After surviving the hard years, we moved into our current Mount Parish campus in 1955. We treasure the heritage that our Jesuit fathers and alumni have built for us, and we strive to lead Wah Yan into a new century of growth.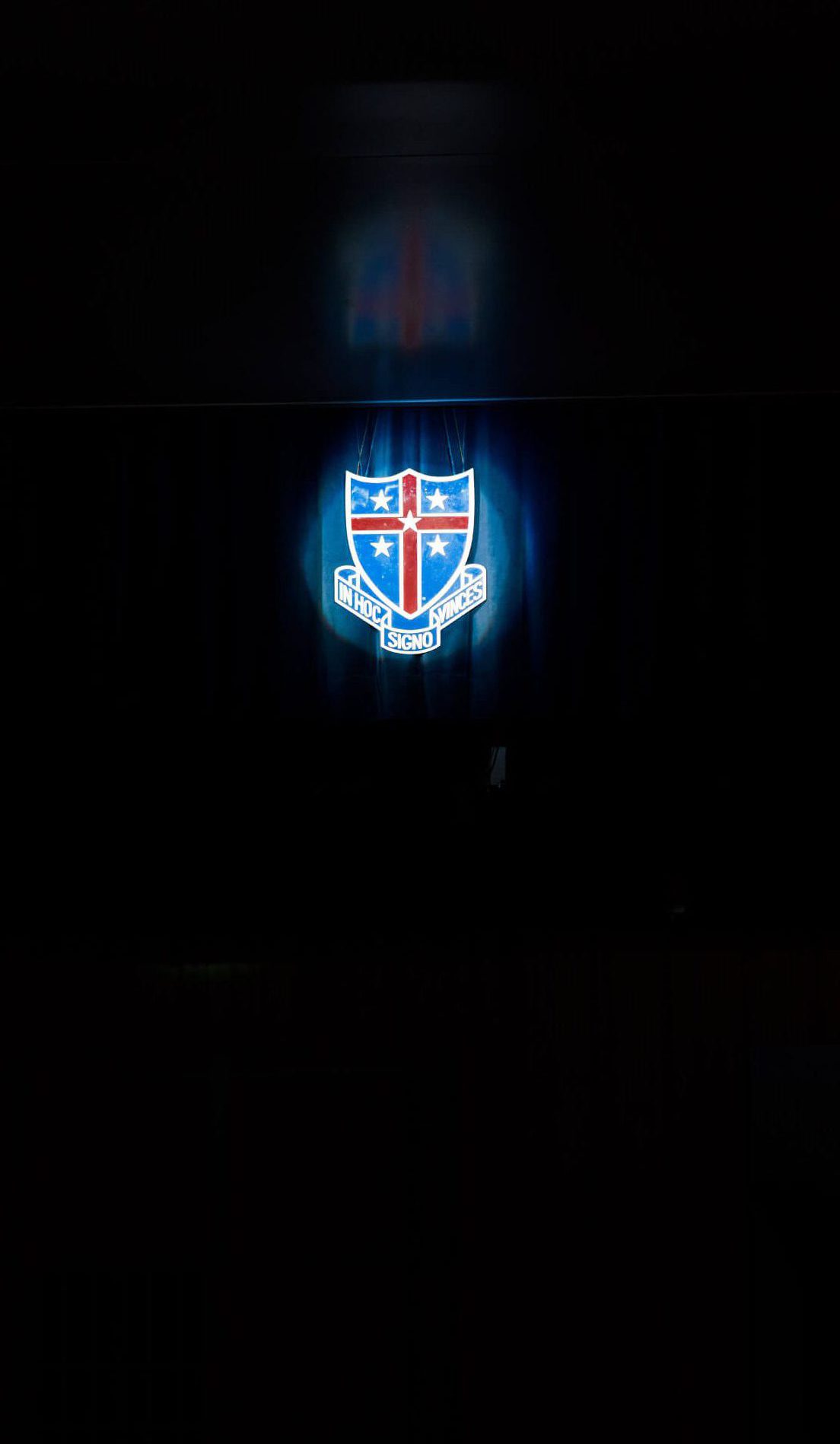 SCHOOL BADGE
The badge of Wah Yan is divided into four quarters by a Cross in red, under which are the words that the Emperor Constantine is said to have seen in the sky the night before he fought his greatest battle.
The words are in Latin and the phrase "In Hoc Signo Vinces", which means "In this Sign, you shall conquer", is our school motto. In the name of Christ, we shall conquer ourselves.
The five stars set in the blue represent "Ng Wah", the district from which Mr. Tsui Yan Sau, Peter, the founder of Wah Yan, came. They also embody the ideas of Virtue, Wisdom, Sportsmanship, Cooperation and Elegance as well as Benevolence, Justice, Courtesy, Wisdom, and Faith.
The blue symbolizes the sea as Hong Kong is surrounded by sea. The Cross in red reminds us of the great love of Jesus Christ for all men since He shed His blood for us on the Cross.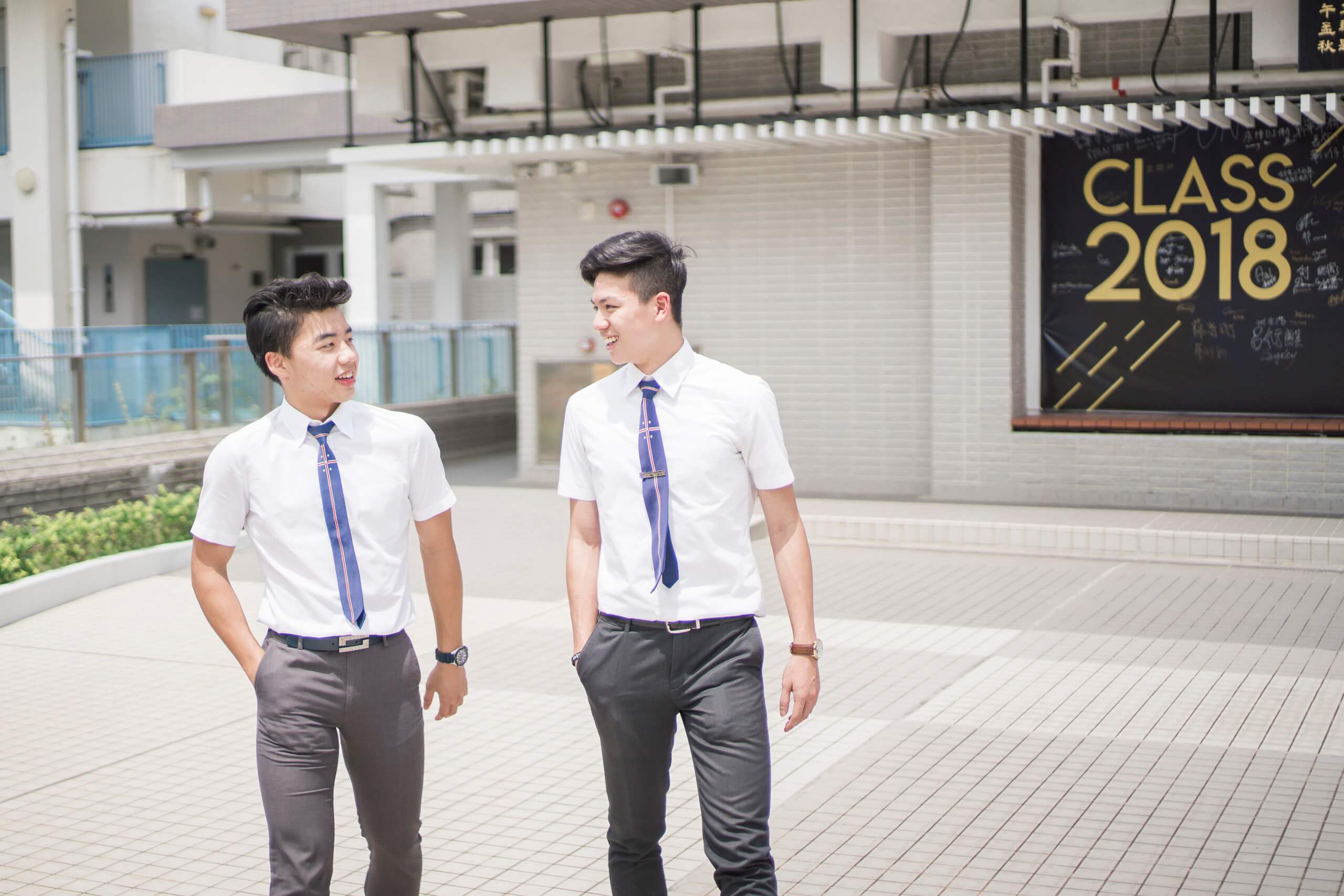 SCHOOL UNIFORM
The spirit of our uniform is to give us a modest but neat, gentlemanly image. Here at Wah Yan, we are trying our best to learn and are proud to present ourselves as young gentlemen and future leaders to our fellow schoolmates and community members. We do not need exaggeration, ostentation or fashion to identify ourselves. Our students wear to school a white shirt, dark grey trousers, a school tie and our classic blazer in 'Wah Yan Blue'.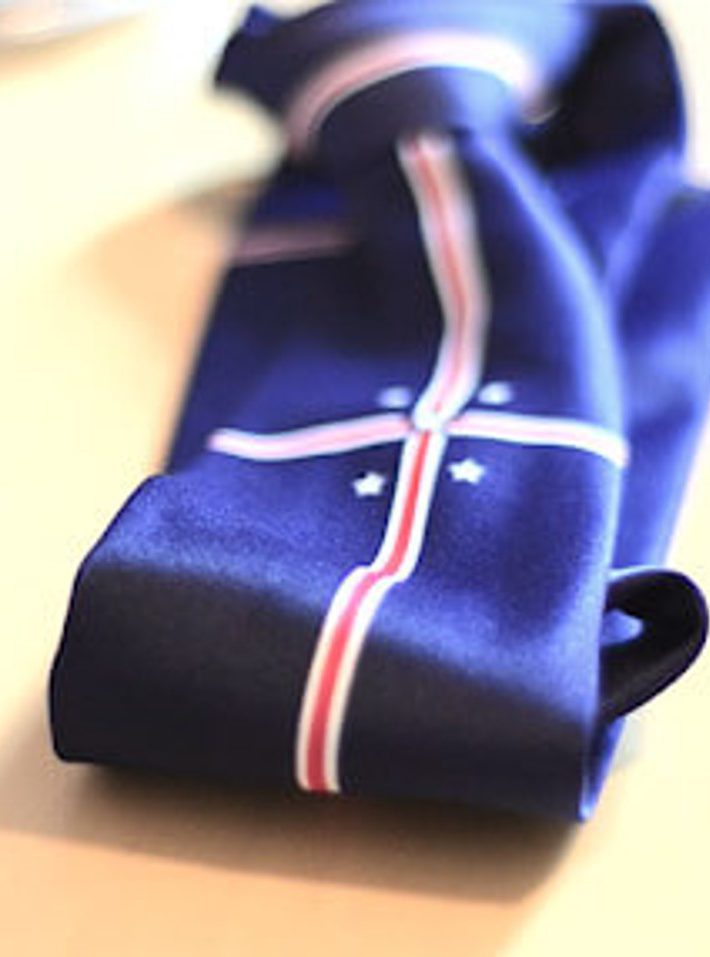 SCHOOL TIE
Our iconic school tie dates back to the mid-50s when schools were beginning to design their own ties. Most designs featured stripes and a badge, which were not exactly creative. Mr. James Yip ('58), then a student at Wah Yan, broke the norm by incorporating our school badge into his timeless design in such a way that its features are instantly recognisable (i.e. the stars and the Cross in a deep blue). The emphatic pattern reminds us to imitate Jesus Christ by carrying our Cross in our daily lives. Till this day, our school tie remains one of the most unmistakable in Hong Kong. Perhaps even more iconic than its design, however, is the fact that our school tie was actually designed by a student. It embodies a bold, innovative Wah Yan spirit so well, that even it is not necessary to wear it during summer, most do anyway.
<! ========= Cool Timeline Free 2.7.1 =========>
Wah Yan Heritage Centre
With God's grace, Wah Yan has been serving Hong Kong for over a century during which numerous lives have been positively transformed directly or indirectly because of its education. It is fitting to pay tribute to our roots, relive moments on our journey, and reflect further on what this amazing Wah Yan story means for us today. Thus, it is with a deeply grateful heart that we have set up the Wah Yan Heritage Centre, softly opened on 17 Dec 2022.
The Centre aspires to be not just about the past, but also the future; not just about historical facts but also the meaning behind; and not just about things, but also (and more) about people. Thus, much creative energy has been put into its innovative design to realize this vision so that visitors may at once feel nostalgic, refreshing, and inspired.The Centre is now open for visit by registration. Please click the link below and fill out the registration form.
FUN FACTS
Do you know …
Fr. Martin Cryan, S.J. was the designer of our present laboratories. His design was so good that the Education department took it for reference and many other schools used it as blueprints for their own laboratories.
There was once a Free Night School with about 20 Wahyanite volunteers providing sports and other school activities for less privileged children in September 1939.
The Poor Boys' Club opened for street children under the direction of Fr. J. Howatson S.J. later blossomed into the Boys' and Girls' Clubs Association in 1952.
A stray cat at the campus in 1993 has aroused teachers and students' awareness of stray cats and inspired the formation of Wah Yan Cats.
Mrs. Julia Baron was the author of the Way of the Cross Mural Decoration in our Chapel. She was also the author of the mosaic floor in St. John's Cathedral.
Both the first and last candidates receiving 10A results in the HKCEE are Wahyanites.
After an exposure to Cambodia, James Mak and Francis Wong were inspired and started Project Little Dream, building schools in Cambodia.
The current campus was designed by Professor R. Gordon Brown, who introduced the Faculty of Architecture to the University of Hong Kong. It is a modernist architecture taking simplicity as its theme.
The science wing, following the general contour of the ground, runs off from the main block at an angle of 105° to the main school block. This variation from the rectangle ensures that the last bit of level ground is available for playground space. It also gives additional protection from the afternoon sun which would otherwise enter the classrooms in that wing soon after midday. Another advantage is that it gives additional storage space in the basement below the covered playground and cafeteria, which occupy the ground-level space of this wing.
Each year, there is an election of 3 "Students of the Year" and finally a "Student Ambassador" who will go overseas to visit counterparts of WYPSA (HK) to broaden students' horizon and maintain close relationship with Wahyanites all over the world.